Ieder eerste zondag van de maand, gepland 2 jan, 6 feb, 6 mrt 2022 15-16.30u. op de Bernissestraat 12B, Amsterdam-Zuid. € 22. 
Iedere tweede zondag van de maand ouder-kind yoga. 
9 jan, 13 feb, 13 mrt 2022, 15-16.30u. op de Bernissestraat 12b in Amsterdam zuid.
€ 25 per koppel.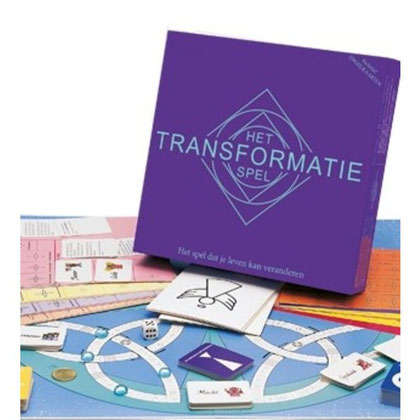 Het Transformatiespel™ voor zelfontdekking en persoonlijke groei. Intuïtieve ontwikkeling en verkenning van Uw mogelijkheden. Doelbereiking en oriëntatievraagstukken in organisaties.
Ontdek de kwaliteiten van Uzelf en Uw organisatie.
Werk aan een positief persoonlijk contact in teams.
Bouw energie op, waardeer de ander, waardeer jezelf.
Ontdek de andere kant van blokkades.
Verwerf inzicht in Uzelf en anderen.
Herken en voorkom stress.
Versterk Uw intuïtie.
Wat is het Transformatiespel?
Het Transformatiespel is een lichtvoetig krachtig en diepgaand middel om stil te staan bij uw eigen levensspel en stappen te zetten tot verandering. Het spel ziet eruit als een gewoon gezelschapsspel met speelbord, pionnen, kaartjes en een dobbelsteen. Dit is echter geen spelletje of tijdverdrijf. Het spelen van het Transformatiespel is een bewuste stap in een diepgaand veranderingsproces. In het Transformatiespel bepalen de spelers van tevoren een doel waarmee ze het spel willen spelen. Vaak is dit een levensvraag waar je inzicht in wil krijgen, maar het kan ook over het bereiken van de gewenste situatie gaan. Aan het begin wisselen de spelers de doelen met elkaar uit en besteden onder leiding van de spelleider aandacht aan een zo helder mogelijke formulering. De helderheid de vraagstelling bepaalt hoe helder van de antwoorden uit het spel zijn.
Met welk speldoel kan ik spelen?
Enkele voorbeelden:
Hoe kan ik gelukkig zijn in mijn relatie.
Op welke manier kan ik de belemmeringen in mijn leven ombuigen naar..
Ik sta op een kruispunt van wegen en wil verkennen wat de juiste richting voor mij is.
Hoe krijgen we als team onze gemeenschappelijke visie helder?
Ik wil meer helderheid over mijn financiële situatie.
Ik wil weten hoe ik met mijn gevoel van machteloosheid kan omgaan
Ik wil onderzoeken hoe ik het conflict met mijn collega op kan lossen
Ik wil contact krijgen met het plezier en de wijsheid van het ouder worden.
Hoe werkt het Transformatiespel?
In de loop van het spel bewegen de spelers zich door vier niveaus.
Ze beginnen op het fysieke niveau waar het onder meer gaat om materie, geld gezondheid. Daarna komen ze achtereenvolgens op het emotionele het mentale en het spirituele niveau.
Bij dat laatste gaat het om zingeving en inspiratie. Het spel wordt gespeeld door 2,3 of 4 spelers.
De begeleider faciliteert het spelverloop en stelt verhelderende vragen. De spelleider stuurt niet, maar ondersteunt en stimuleert. Op het spelbord bewandelen de spelers het eigen levenspad.
Hierop komen zij direct of op symbolische wijze van alles tegen:
- verwerven van inzicht,
- gebruik van vrije wil of intuïtie,
- in een depressie raken en daar weer uitkomen,
- verwerken van pijn,
- omgaan met belemmeringen,
- ontdekken van kwaliteiten.
De kaartjes die je trekt als je op bepaalde velden van het speelbord komt, sturen dit proces. Deze kaartjes verhelderen, moedigen aan en confronteren, alles in relatie tot het speldoel van iedere speler. Het spel prikkelt de creativiteit en stimuleert het samen delen. De directe communicatie en de voortvarende interactie belichten dan het speldoel van vele kanten.
Het Transformatiespel is een diepgaande en intieme belevenis. Tegelijkertijd blijft het een spel, met alle lichtheid, speelsheid en afwisseling van dien. In deze context creëer je samen een sfeer van openheid en vertrouwen.
De workshop duurt met 4 personen 6 uur in totaal met een hapje en een drankje erbij. Met 2 of 3 personen zal het iets korter zijn.
4 spelers en 1 begeleider. 
Kosten € 60 per persoon in totaal. 
Een superleuk spel! En je gaat naar huis met mooie inzichten en magische momenten.
Meer info: info@spiritandsports.com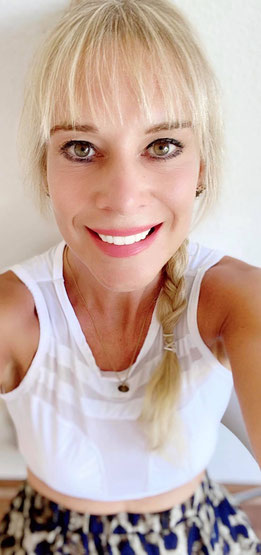 Sandra had an active lifestyle when yoga came her way about 10 years ago. Yoga and meditation give her relaxation, more clarity and peace of mind – her body also felt so much lighter after a yoga class.
Graduated as a Lawyer, but not quite happy in this profession, she knew she wanted to help people, but she was still looking for that. She has had various jobs in law, communication, marketing & event management. Her interest in people and movement was present from an early age.
Her mission is to help people and children feel better through exercise, relaxation and nutrition: less pain, more energy and happier. Movement and breathing are important. A healthy body is a healthy mind. When Yoga came her way, she first practised Kundalini Yoga for a few years and then Poweryoga, Vinyasa/Ashtanga and YinYoga. As of 2014, energetic therapy has taught her a lot, because she is very intuitive. She teaches a lot in Amsterdam and surroundings as a Personal Trainer and (Children's) Yoga teacher. Reiki came her way in 2018 and from then on it has gone fast. After Reiki Level 1 and 2, she became a Reiki Master in Nov. 2019. She now also provides Reiki treatments and Frequency Therapy.
Her symbol is the butterfly. The Butterfly represents the process of Transformation. The message of the butterfly is 'dance through life with pleasure and cheerfulness, because life is there to be enjoyed'. The butterfly reminds us not to take life too seriously. They create a feeling of lightness and cheerfulness, because if you move, you are already dancing. The butterfly teaches us how to consciously change our lives, by creating new conditions and needs.
She loves her job and is happy to guide you on your own journey!
Divine Soul Yoga
Een complete workshop voor body, mind and soul. Bliss, een aanhoudende ervaring van vervulling welke onafhankelijk is van alle omstandigheden. Wij ervaren iedere keer de bliss tijdens het mediteren, omdat het resoneert met ons ware bewustzijn.
Bliss meditation is een 2-daagse workshop (4 uur per dag): een levens veranderende workshop
powered by Divine Soul Yoga. In deze twee dagen zal je aan boord stappen van een reis om te genieten van ziels verrijkende meditatiesessies. Deze workshop zal je kracht geven om het geheim te leren om bliss te ervaren.
Dit speciale weekend programma bestaat uit praktische technieken en ankers, die je zullen helpen om een perfecte balans te vinden tussen mind, body en soul. Bouw aan een leven vol wijsheid en beleef een uiterst zegevierende levensreis. 
Dag 1: Zaterdagochtend 9 oct. 2021, 07.30-11.30u. 
Dag 2: Zondagochtend 10 oct. 2021, 07.30-11.30u.
Een unieke gift: ontvang gratis authentieke en zeer mooie kristallen uit India voor healing,
ter waarde van € 25!
Locatie: Bernissestraat 12B, 1079 ZW Amsterdam. 
Tickets: € 65 in totaal voor twee dagen.
Koop via de bestelknop hierboven.
Beperkt aantal plaatsen! Reserveer snel. Meer info: info@spiritandsports.com.
De pijlers van de workshop: 
Highlights:
   - Spirituele levenslessen.
  -  2 dagen begeleide bliss meditatie.
  -  Ervaringen delen en persoonlijke aandacht van onze professionele gekwalificeerde trainers. 
   - Een yogasessie door 1 van onze gekwalificeerde yogateacher. 
   - Lachtherapie.
   - Restorative and self-Healing sessie.
   - Koffie, thee, water, fruit en snacks. 
Wat krijg je?
   * Begeleide meditatie gebaseerd op de 'Power of Love'. 
   * Leer de kunst van Lachtherapie als een natuurlijke ontstresser samen met muziek. 
   * Kristallen healing en een mogelijkheid om een persoonlijke healing te ontvangen van 1 van onze
      senior teachers van Divine Soul Yoga. 
   * Je zal getuige zijn van de diepe ontspanning van jouw lichaam, geest en ziel. 
   * Je zal leren om jouw eigen chakra's te healen, in balns te brengen en energie te geven.  
   * Uitgebreide kennis op doen over de werking van de chakra's. 
   * Tools om het heft in eigen handen te nemen m.b.t. jouw eigen leven en meester worden over jouw
      eigen bestemming in het leven.
Programma beide dagen:
7.30-8.00: Welkom en introductie.
8.00-8.30: Meditatiesessie, Yoga Nidra & Bliss Meditation .
8.30-8.45: Ruimte voor ervaringen delen en vragen.
8.45-9.00: Pauze met thee en fruit. 
9.00-9.15: Lachyoga
9.15-10.00: Kristal Healing workshop.
10.00-10.15: Pauze.
10.15-11.15: Yoga & Pranayama (Ademhaling) sessie. 
11.15-11.30: Ruimte voor vragen en ervaringen.
Founder & Trainer: Dr. Deepak Mittal
Trainer: Sandra Van Donkersgoed.
Trainer: Farooq Abdul Kadher.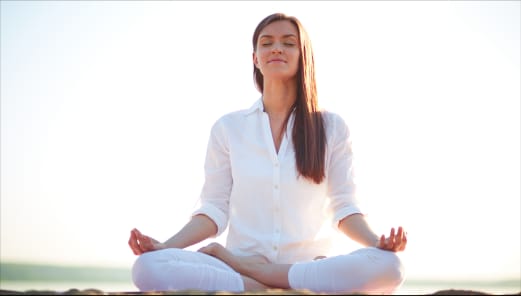 1. Bliss Love Meditation: Wie zegt dat meditatie alleen voor een kleine groep mensen is? Leer nu een super makkelijke manier om te mediteren, namelijk de methode die op liefde is gebaseerd. Je voelt je gelifd door het vrijkomen van het hormoon Oxytocin, het zogenaamde liefdeshormoon. TIjdens het beoefenen van de bliss love meditatie zal je liefde, compassie en 'bliss' ervaren in jouw hart. Deze meditatie is ontwikkeld door de Master Dr. Deepak Mittal, ontstaan uit zijn eigen spirituele ontwikkelingen.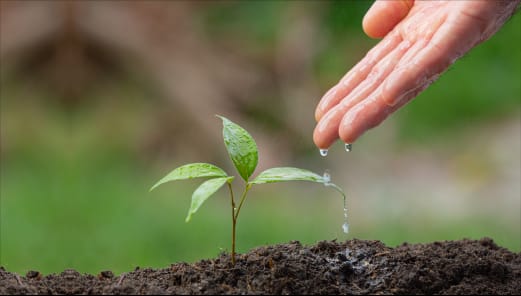 2. Divine Healing: Het is de samensmelting van oude en moderne healing technieken. Zou het niet geweldig zijn om deze interessante technieken te leren en zelf een healer te worden? Je zal de innerlijke kracht van je ziel ontdekken en de flow van de universele energie in jezelf vergroten, welke je geluk, innerlijke rust, tevredenheid en voorspoed in je leven zal brengen.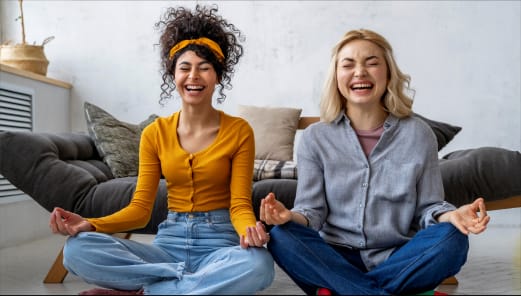 3. Lachtherapie: Zouden we een heel erg belangrijk ding in ons leven missen? Yes, onze lach! Lachyoga (Hasyayoga) is een moderne oefening, welke spontaan lachen in je zal opwekken. Ontdek dat je niet echt een reden nodig het om blij te zijn en te lachen! Doe mee met een lachsessie, met gekke, grappige bewegingen en activiteiten en je bent de hele dag vrolijk!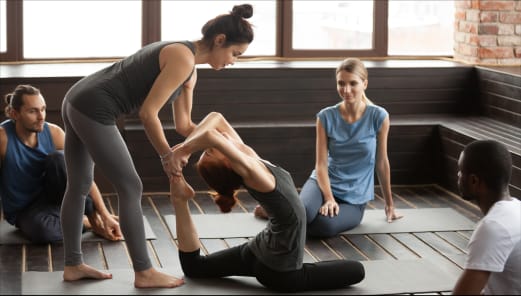 4. Yoga Asana: De yoga asana sessies zijn zo ingericht, dat je jezelf jonger en energieker gaat voelen, flexibeler; het helpt je te ontstressen en geeft je meer helderheid in je hoofd. Beginnend met simpele yogaposes naar meer uitdagende poses, zal je alles leren van onze zeer ervaren en professionele yogateachers.
---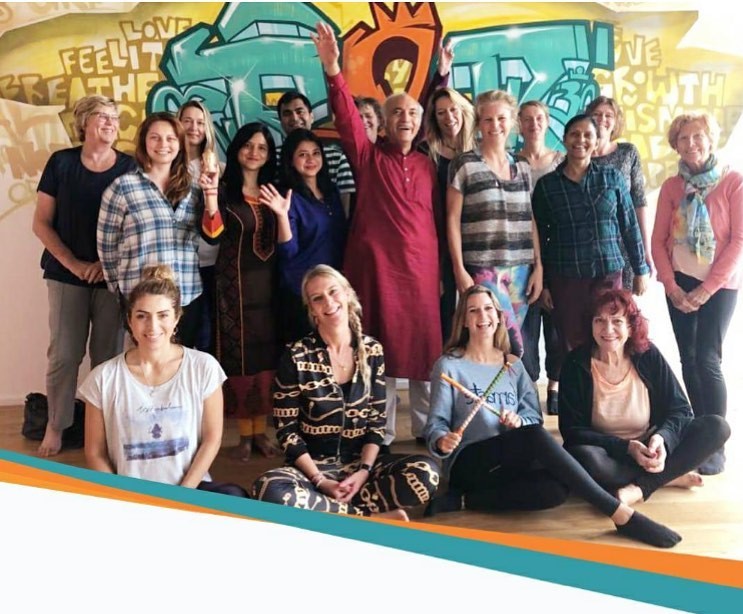 ENGLISH
Divine Soul Yoga:
A Complete workshop of Body, Mind and Soul.
Bliss, a sustained experience of fulfilment that is independent of all the circumstances. We experience bliss during meditation as it resides in our true consciousness.
Bliss Love Meditation is a 2 days (4 hours each day) life altering workshop powered by Divine Soul Yoga. In this 2 days workshop, you will embark on journey to joy with soul enriching meditation sessions. This workshop will empower you to learn the THE SECRET TO BLISS.
This special weekend program consists of practical techniques and anchors that help you achieve a perfect equilibrium between mind, body, and soul. Cultivate a life of wisdom and live a supremely victorious journey of life.
Day 1: Saturday morning 9 oct. 2021, 07.30-11.30 am.
Day 2: Sunday morning 10 oct. 2021, 07.30-11.30 am.
Salient features of the Bliss Meditation Workshop:
Bliss Love Meditation: Who says meditation is only for a chosen few?? Learn a super easy meditation which has its foundation in Love. One feels Loved due to release of a very special hormone called Oxytocin. It's also known as love hormone. While doing this liss love meditation there is aindance of oxytocin release in our body and we experience love, compassion and liss in our heart. This meditation is specially curated by Master Dr. Deepak Mittal from his spiritual experiences.
Divine Healing: It is an amalgamation of both ancient & modern healing techniques. Wouldn't it be nice if you learn these interesting techniques & become a self-healer. You will discover the Inner power of your soul & enhance the flow of divine energy within you that will shepherd good luck, inner peace, contentment & prosperity in your life.
Laughter therapy: Are we missing a very important thing from our lives?? Yes our Laughter!! Laughter yoga (Hasyayoga) is a modern exercise which will induces spontaneous laughter in you. Discover that you don't really need a reason to be happy and laughing!! Join us for a burst of laughter with crazy fun-filled movements & activities and be happy throughout the day!!
Yoga Asana: The yoga asana has been designed in such a way that it will rejuvenate yourself, make you flexible, de-stress you and give you a higher clarity of mind. Starting from simple to advanced asana you will be learn it all from our very experienced and qualified yoga teachers. You will be able to practice it later from the comfort of your home
A unique gift: Receive authentic & precious crystals for healing worth Euro 25 completely free!
Key Highlights:
   - Discourses based on life lessons
  -  2 days guided Bliss Meditation
  -  Experience sharing & personal attention by our well qualified trainers.
   - A yoga session by a qualified yoga teacher
   - Laughter therapy
   - Restorative and self-Healing session
   - Coffee, tea, water, fruit, and snacks
What will you get?
   * Guided Meditation based on Power of Love.
   * Learn the science of Laughter Therapy as a natural de-stressor along with Music
   * Crystal healing and an opportunity to get personalized healing session by our qualified
     senior teacher of Divine Soul Yoga.
   * You will witness how your body and mind goes into a state of deep relaxation
   * You will learn self-cleansing, energizing & balancing of chakra.
   * Deep learning's on Knowledge on chakra.
   * Taking charge of your own life and becoming master of your own destiny.
Program schedule for both the days:
   7.30 am: Arrival
   7.45 am - 8.00 am: Welcome and introduction.
   8.00 am - 8.30 am: Meditation session, Yoga Nidra & Bliss Meditation.
   8.30 am - 8.45 am: Experience sharing and questions.
   8.45 am - 9.00 am: Break with tea and fruit.
   9.00 am - 9.15 am: Laughter yoga/meditation.
   9.15 am -10.00 am: Crystal Healing workshop.
   10.00 am -10.15 am: Break.
   10.15 am -11.15 am: Yoga and Pranayama (breathing) session.
   11.15 am -11.30 am: Q & A
Venue: Bernissestraat 12B, 1079 ZW Amsterdam. 
Tickets: € 65 in total for two days.
Buy through button 'Bestel Nu' above.
Limited seats! Register now. More info: info@spiritandsports.com.
Founder & Trainer: Dr. Deepak Mittal
Trainer: Sandra Van Donkersgoed
Trainer: Farooq Abdul Kadher.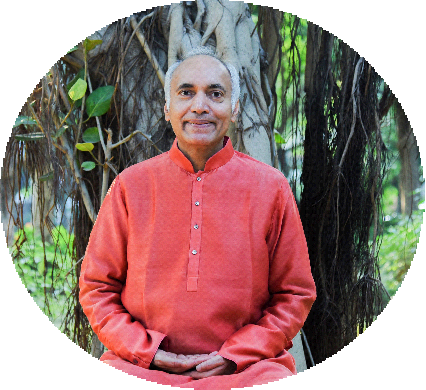 Meet the Master:
Dr. Deepak Mittal
Dr. Deepak Mittal is a 1st generation entrepreneur, philanthropist and a visionary. He is the managing director of International Tractors Limited. Rose from a very humble beginning, he was a son of a government insurance officer. He has reached a pinnacle of success despite all the limitations of money, resources, and being from a small city of Punjab, Hoshiarpur.
Having big aspirations for global business, He started his career as a co-founder of the company from zero. Currently, the company has its global presence in more than 120 countries along with all the EU nations by the brand name Solis. After achieving great success in career, Dr. Mittal realised that success and contentment (inner happiness) are two different things. He believes that even after attaining great name, fame & luxuries, a person is not necessarily a happy person. Dr. Mittal measures success in terms of holistic happy and healthy living. After this realization he started his search for internal happiness. He spent his time with great spiritual teachers of India to learn meditation. He studied various spiritual books, spent time in nature and finally could reach a place where he felt that he was happy and successful. His mission is to share & spread this precious knowledge through Divine Soul Yoga. Dr. Mittal has faced many adversities in life. He is aware of the challenges one faces, may it be in personal life or at the professional front. He preaches what he practices in his own life.
With daily practice of these practical techniques, meditations and reading he has integrated the art of happy living in his life. All his workshops are based on his practical experience. He wishes that with his guidance, everyone becomes capable enough to handle their stress, face the challenges of life like a warrior and come out victorious and lead a good quality life!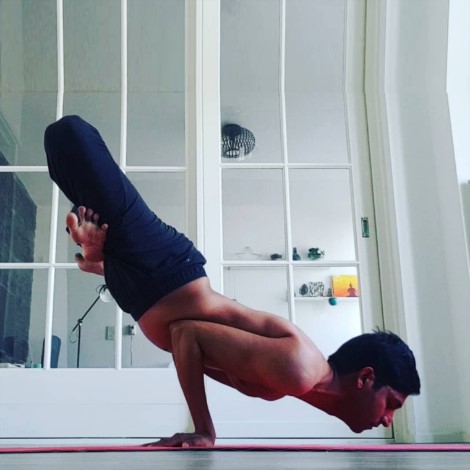 Farooq Abdul Kadher has 30 years of experience in practicing yoga. He started practicing Iyengar yoga as early as the age of 9 while he was living in India, and religiously followed yoga as a way of living. Later he practiced Hatha yoga to advanced level and then got certified as a yoga teacher (RYT200).
He spent several weeks in Mexico among a group of yogis to understand how the western world adopts yoga. A Production Engineer and MBA by education, he also has experience teaching yoga in large corporate environments. His mission is to bring the authentic and true form of yoga to the world.
He has 500+ hours of teaching experience to a wide variety of audience. He has been an active participant and on-stage teacher for several international yoga day events in the Netherlands. Until Aug-2019, he co-owned a Yoga Center in Amstelveen (The Netherlands) which, he used to spread the yoga and its benefits to the yoga enthusiasts. His classes are mainly in Vinyasa, Hatha and Yin style of yoga along with Pranayama.
---